01 Jun

SWORN TRANSLATION FOR SPANISH VISA
SWORN TRANSLATION FOR SPANISH VISA
Immigration processes usually require a sworn translator to translate the documents you need to apply for your paperwork. This is the case of many of the visas to travel to Spain from the United States, for which Spanish consulates require certain documentation to be officially translated.
In this post, we will explain what a sworn translation is, which visas for Spain can be applied for in the USA and which foreign documentation requires a sworn translation.
What is a sworn translation? What is the difference between a sworn translation and a regular translation?
A sworn translation or an official translation is a the one made by an authorized translator certified as a Sworn Translator-Interpreter by the Spanish Ministry of Foreign Affairs and Cooperation (MAEC).
The sworn translation must bear the seal and signature (sworn) of an official translator, who certifies that the translation is true to the original. In the case of visas, the sworn translation usually involves bank statements, financial information, marriage certificates, background checks, medical or health certifications, etc. In contrast, there is no need for the translator to be a sworn translator or for the document to bear the translator's signature and seal for a "regular" translation.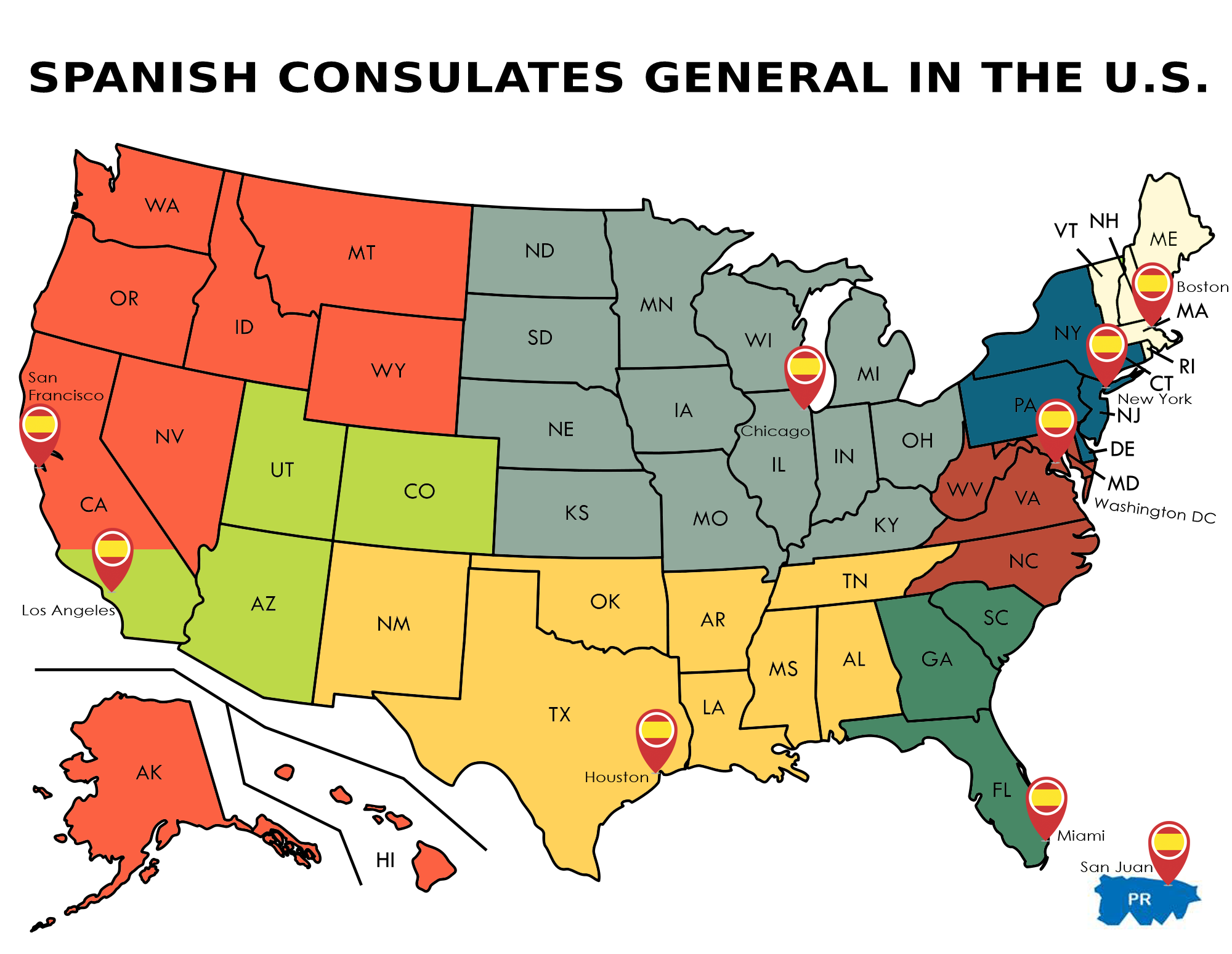 Where can I find the Spanish consulates in the United States?
There are 9 Spanish consulates in the United States, located in Boston, New York, Washington DC, Chicago, Miami, Houston, Los Angeles, San Francisco and San Juan, Puerto Rico.
All consulates have their own web page where the requirements established for each type of legal-administrative service can be found. In the case of sworn translations, the consulates require certain documentation to be officially translated along with the Hague Apostille, in order to process the visa. We recommend that you visit the website of the corresponding consulate in order to previously know the necessary documentation you may need to process your visa.
What types of visas can I apply for?
You may apply for up to 11 different visas, depending on the reason for your trip and your situation.
Student visa
Investor visa
Researcher visa
Internship visa
General scheme for the family reunification visa
Non-working residence visa
Employee visa
Self-employed work visa
Entrepreneur visa
Long-term residence or EU long-term residence recover
Visa for highly qualified workers and for intra-company transfers
You can find detailed information about the processing of these visas, as well as the necessary documentation, on the website of each consulate (see below).
What documentation for your visa needs to be translated by a sworn translator or an official translator?
As mentioned above, the requirements for a sworn translation will depend on the consulate where the visa application process is performed, since certain consulates ask for the original document, others allow electronic submission, etc.
However, to provide a general idea, we have analyzed which documents are the most commonly translated for obtaining a Spanish visa in the USA. Furthermore, the web page of each consulate expressly states that foreign documents must be authenticated or apostilled and, if necessary, be accompanied by an official translation into Spanish.
These are the documents for which Spanish consulates in the United States usually request a sworn translation:
Criminal record certificate or background check
Medical certificate
Health insurance
Proof of the representative's identity and capacity
Authorization of legal representatives
Proof of availability of financial means
Do you need a sworn translation of your documents to obtain your visa? Are you looking for a sworn translator?
At NARTRAN we have specialized in sworn translations and our official translators provide sworn translations of visa documentation.
What do we require?
Send us the documentation you wish to translate via email (emg@nartran.com) or through the form on our website, and we will provide you with a quotation as soon as possible with no obligation whatsoever. It is important that you send us the documentation beforehand so that we can give you an accurate quotation according to the number of words contained in the document. Moreover, if you send us all the documents to be translated together, you will benefit from a discount on the final price.
Once the quotation is accepted and the payment for the translation is completed, we will send you the sworn translation both in digital version with electronic signature and on paper, if necessary.
Please do not hesitate to contact us via email, web form or by calling +34 986 120 127 or +34 699 59 02 70 to find out more about how we work at NARTRAN.
You will find below the contact details of each consulate to access all this information:
31 St. James Avenue, Suite 905
Boston, MA 02116
Tel: (617) 536-2506/2527
Fax: (617) 536-8512
Jurisdiction: Maine, Massachusetts, New Hampshire, Rhode Island, Vermont.
180 N. Michigan Avenue, Suite 1500
Chicago, IL 60601
Tel: (312) 782-4588/4589
Fax: (312) 782-1635
cog.chicago@maec.es
Jurisdiction: Illinois, Indiana, Iowa, Kansas, Nebraska, North Dakota, South Dakota, Ohio, Kentucky, Michigan, Minnesota, Missouri, Wisconsin.
1800 Bering Drive, Suite 660
Houston, TX 77057
Chicago, IL 60601
Tel: (713) 783-6200/05/14
Fax: (713) 783-6166
Jurisdiction: Alabama, Arkansas, Louisiana, Mississippi, Tennessee, New Mexico, Oklahoma, Texas.
5055 Wilshire Blvd., Suite 860
Los Angeles, CA 90036
Tel: (323) 938-0158/0166
Fax: (323) 938-2502
Jurisdiction: California (Imperial, Kern, Los Angeles, Orange, Riverside, Bernardino, San Diego, San Luis Obispo, Barbara y Ventura counties), Arizona, Colorado, Utah.
2655 Le Jeune Road, Suite 203
Coral Gables, FL 33134
Tel: (305) 446-5511/12/13
Fax: (305) 446-5431
cog.miami@maec.es
Jurisdiction: Florida, South Carolina, Georgia
150 East 58th Street, 30 th & 31st Floors
New York, NY 10155
Tel: (212) 355-4080/81/82/85/90
Fax: (212) 644-3751
cog.nuevayork@maec.es
Jurisdiction: New York, Connecticut, Delaware, Pennsylvania, New Jersey.
1405 Sutter Street
San Francisco, CA 94109
Tel: (415) 922-2995/96
Fax: (415) 931-9706
cog.sanfrancisco@maec.es
Jurisdiction: Alaska, California (except southern part), Hawaii, Idaho, Montana, Nevada, Oregon, Washington, Wyoming, US possessions in the Pacific.
2375 Pennsylvania Avenue, NW
Washington, DC 20037
Tel: (202) 728-2330
Fax: (202) 728-2302
Jurisdiction: Maryland, Virginia, West Virginia, District of Columbia, North Carolina.
Edificio Mercantil Plaza, Piso 11 Oficina 1101 Avenida Ponce de León s/n
Hato Rey – Puerto Rico 00918
Tel: (787) 758-6090/6142/6279
Fax: (787) 763 01 90
cog.SanJuandePuertoRico@maec.es
Jurisdiction: Puerto Rico, Islas of Culebra and Vieques, Virgin Islands
We hope you found this new publication useful. Please visit our blog to learn more about translation and interpretation and you will find all kinds of topics: subtitling, remote simultaneous interpretation, localization, proofreading tips…
Thank you very much.
Have a good day!